News at MexArt
February 26, 2014
How is being voted no. 1 city in the world affecting San Miguel...and where can it go from here? Check out this article in the Daily Beast.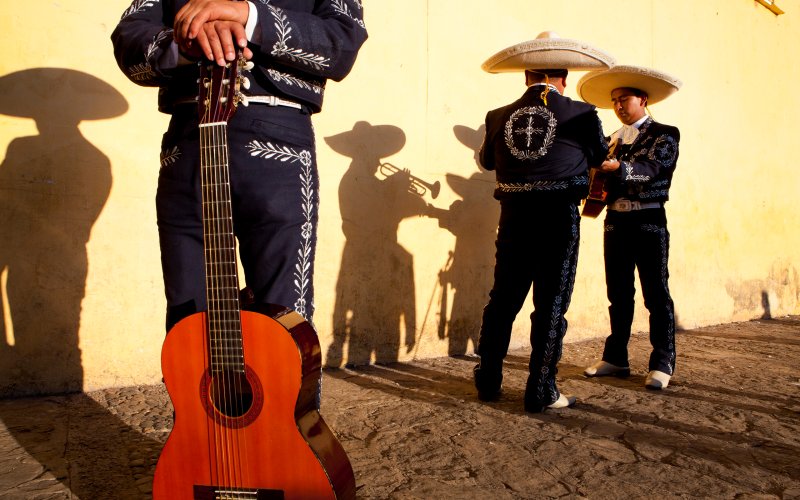 October 6, 2013
San Miguel is voted NUMBER ONE city in the world by Conde Nast Traveler, beating even Paris and Rome!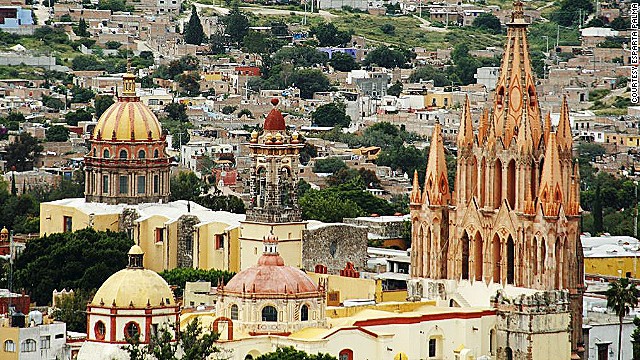 January 26, 2013
The new brochures are in, hot off the press! Want one? Send me your address: carly@gomexart.com
January 26, 2013
Stop by and visit us at the Sidwell Friends School in Washington DC from 1:00 to 3:30!
January 23, 2013
Attended the camp fair at Conestoga High School in Berwyn, PA. Thanks! Great attendance and hope to see many students at MexArt this summer!
January 18, 2013
Early enrollment discount of $300 valid until January 31st! Sign up online and send your deposit in to receive the early enrollment discount.
January 17, 2013
Did you miss this article about San Miguel? Check out this article from Smithsonian Magazine, "Under the Spell of San Miguel".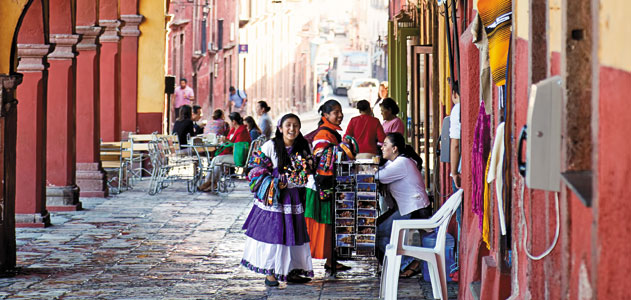 January 14, 2013
Today we are attending the Tips on Trips camp fair at the Baldwin School outside of Philadelphia.! MexArt is in promotion-mode! Bring on the students for summer 2013! www.tipsontripsandcamps.com Tips on Trips is an organization of camp referral agents who help families place their children at summer camps and programs specific to their interests and goals.
January 13, 2013
Carly and Sofie arrived in the United States where they will be staying for a whole month. While Sofie attends preschool with English-speaking children outside of Philadelphia, Carly will be meeting with Spanish teachers, art teachers, and families. Do you know someone who might want to meet or would like to receive a brochure about MexArt? Send an email to carly@gomexart.com.
June 25, 2012
Watch out dancers, we just made new ballet barres for the dance studio. They are free standing and can be brought back to the Casa for practice if needed. They can also be extended to multiple sections for longer barres.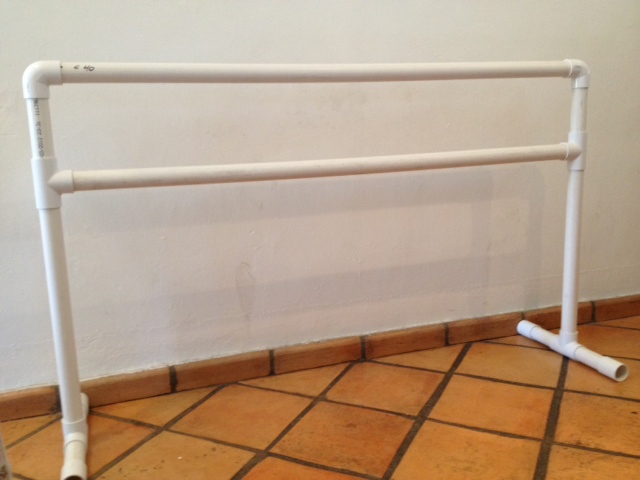 Want to make one for your home use? This one is 38 inches high with the lower bar 10 inches lower than that. You can purchase cut-to-order PVC and elbow and T joints to make this very inexpensively. Just visit your local hardware store or homedepot-type place. We came home with ours (I should say, Jesus came home) 30 minutes later toting this with him. Easy, fast, and inexpensive....about $20 USD. Check out this youtube video on how to assemble it. It doesn't have measurements, but you'll see how easy it is!
Here's the list of what you'll need at the hardware store:
4 T-joints
2 elbow joints (curved part on the top corners)
2 long pieces of 153 cm
2 short pieces of 20 cm
2 medium pieces of 61 cm
4 squat pieces for the feet of 16 cm each
4 couplings or caps for the ends of the feet
Sorry our measurements are in centimeters....we're in Mexico! Go get started!!!!
June 19, 2012
Ready to start packing? Students attending this summer are gearing up for an AWESOME experience. MexArt recently updated its packing list page on the web site. Check it out for advice, weather concerns, and odd items you might like to bring. And then check out this link for techniques on how to maximize your packing space in your suit case. This "roll" technique works well for me! --Carly
May 10, 2012
Welcome Texas A&M! This ambitious group of education students is visiting San Miguel for 20 days, teaching English as a second language to children at an elementary school in a small town outside of San Miguel.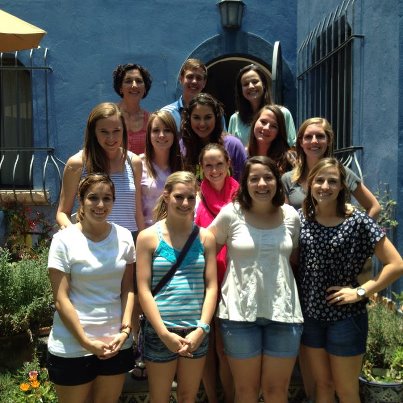 May 2012

click here to read
March 22, 2012:
A big warm welcome to Rachel and Zoe!
March 20, 2012:
Dr. Seuss didn't invent the purple tree! Check out the purple jacaranda trees now in bloom in San Miguel.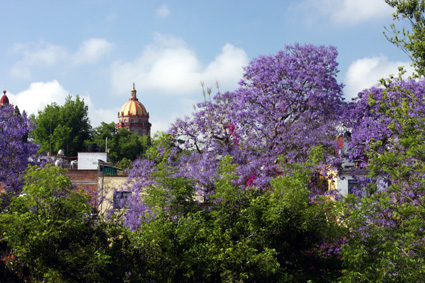 March 18, 2012:
Check out this link: about the benefits of bilingualism: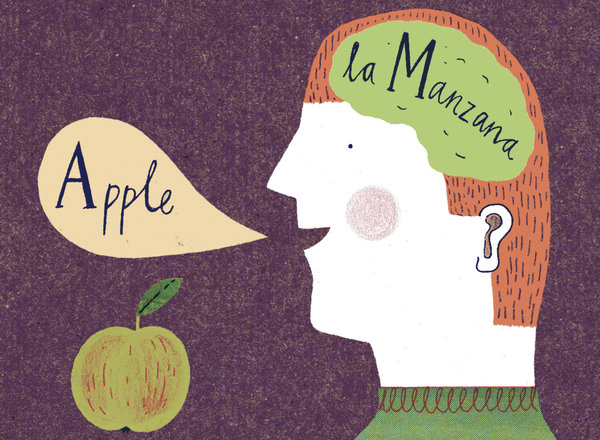 March 15, 2012:
MexArt shouts out to Marialexa!
March 13, 2012:
A big welcome to Tali and Sappho!
March 3, 20120:
Where do MexArt students stay while in San Miguel attending MexArt? Well, at Casa Carly (previously known as Casa Crayola). Check out photos and information at the Casa Carly web site. Students live 2-3 per room with up to 5-6 per casita, each equipped with private bath, cable/tv/dvd, kitchenettes, and comfortable living. Wireless internet is available throughout the property.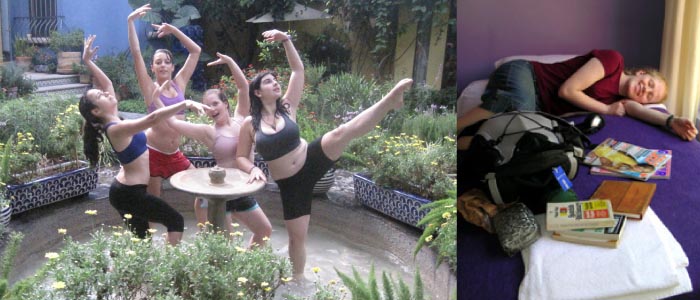 Feb 8, 2012:
The State Department issues a revised travel advisory for Mexico, specifying safety region by region. Notice that San Miguel de Allende, Guanajuato and surrounding states are pinpointed as being free of any advisory! Come on down! And this travel blog breaks down the advisory for easy reading, clearly stating how the new advisory clears the top tourism destinations for travel, including San Miguel de Allende.